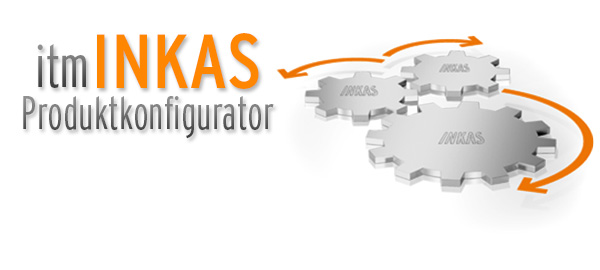 CPQ Processes & Variant Configuration Designed Intuitively to Configure Multi-Variant Products and Systems
The INKAS® product configurator accelerates offer processes in the company with multi-variant products. It is an integral part in variant management and simplifies the work of product managers, sales and marketing employees.
The INKAS® product configurator enables all user groups to configure multi-variant products in a highly individual, quick and simple manner. This increases sales while reducing the expenditure for offer preparation and all follow-up processes, e.g. manufacture.
Customers receive their offers faster and benefit from an improved web presentation, e.g. by the amazing 3D variant visualisation!
Quick efficiency enhancement in the engineer-to-order process
Just one mouse click and the technical information, e.g. dimension sheets, CAD drawings, circuit diagrams, item lists, etc. are delivered immediately.
The INKAS® product configurator demonstrates product efficiency enhancement, e.g. with the
Project Specification Tool (PST), which is used to optimise the engineering-to-order process for systems/installations.
Advantages of our product configurator software for variant configuration
quicker preparation of offers
quicker user response to customer enquiries
automatic generation of 3D models
acceleration of business processes
intuitive operability
coverage of the overall process from pre-selection to the finished product description
dimension sheets, CAD drawings, circuit diagrams, item lists at the push of button
seamless integration with NX, Pro/E, Windchill product data management platforms
improved web presentation
high performance and thus also suitable for sophisticated and highly multi-variant products
cost-saving
additional features such as graphic assembly, PDF with 3D views, techn. design or even entries
short lead times
options logic, etc. available
possibility of standardised data basis position in the SAP system
seamless export of the products models in the SAP ERP and integration of technical rules
100% SAP integration